Food and Drink for Every Palate in The City of Tomorrow


With lodging out of the way, then, your journey to Retropolis has likely left you ready to eat. You certainly should!

We hate to brag - although, you may realize, that's our job - but we can tell you in all honesty that there's no better place to find whatever meal you're looking for.

And you may not need to look far. Your hotel probably has its own dining room, for example - the Palace of Paramagnetism has four! - and if you're touring the night clubs of the city you'll find a wide variety of fare right where you already are.
If you're a real stranger to the city we can recommend your own local cuisine at the Bella Cucina de Venus - famous for its slow-roasted Toothflower - or at the highly regarded Barsoomian Bar and Grill. If you're less adventurous, or eager to try terrestrial cuisine, your biggest problem will be settling on a single choice. But take heart! You'll have many opportunities to explore during your stay.
What we recommend is that you try to avoid the restaurants - as fine as they are - you'll find reviewed in magazines and guides. If you venture off the tourist track you'll have a chance to eat as the Retropolitans do in the places that only they know.

And first on that list has to be the Astro. The Astro is a local's diner, at a comfortable distance from the Experimental Research District, where Retropolitans from all walks of life come to dine and exchange their news. Just by listening in you'll gain clues to local attractions not even mentioned in this Guide. And if you ask! They'll bend your ear till you cry "No More!"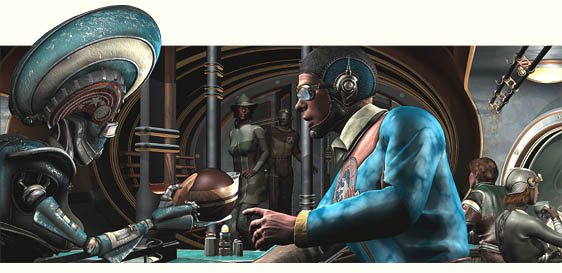 The permanent fixture of the Astro is its hostess, Mabel. She was built back in 2002 and still runs on all of her original equipment. Mabel may not be the fastest waitress in Retropolis, but she's certainly the best known.

(Visitors are cautioned, however, to deal carefully with Mabel. She does not respond well to conversation except about your order, and possibly not even then. Mabel's local fame has nothing to do with a cheery outlook on life, and this is worth remembering.)